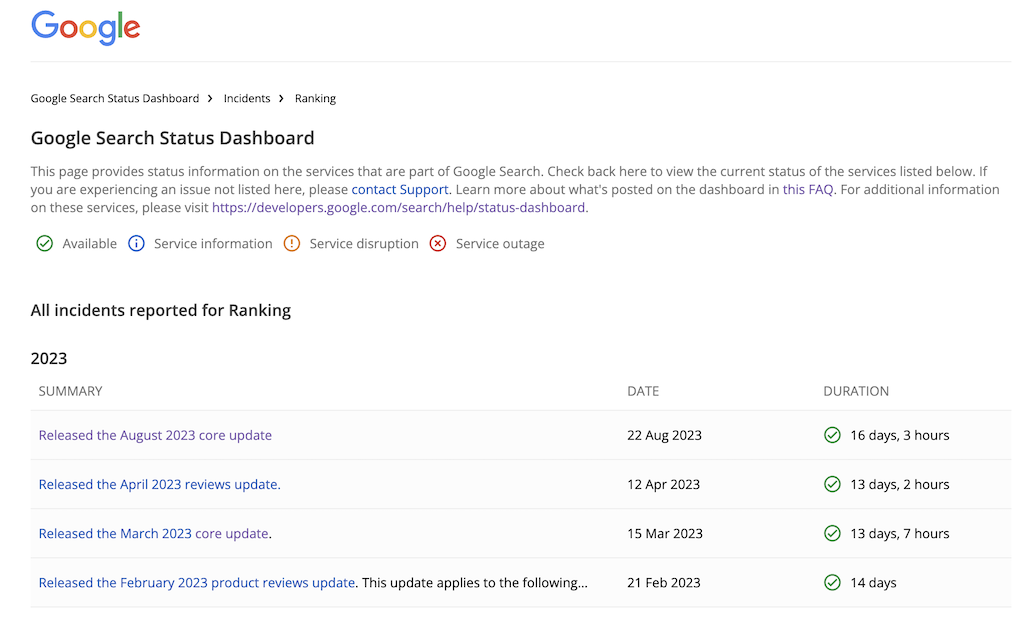 Google Successfully Deploys August 2023 Core Update – What Website Owners Should Do Next
Google has now completed the rollout of its August 2023 Core Update, affecting search rankings across various industries. In addition to this, Google had previously introduced two review updates in February and April of the same year, following a core update in March.
As part of the August core update rollout, Google made notable enhancements to its Search Central documentation, highlighting its ability to index CSV files. The official announcement of the completion of the August 2023 core update was made by Google Search Central. The update itself took approximately 16 days and three hours to be fully implemented.
The primary purpose of core updates is to fine-tune Google's search algorithms, ensuring that they deliver more accurate and reliable search results. It is worth noting that the previous core update occurred in March 2023, while Google also introduced product review updates in February and April.
Interestingly, shortly after launching the August core update, Google expanded its Search Central documentation to explicitly mention its capacity to index CSV files.
Now, let's discuss the essential steps that website owners should consider taking in response to this core update
Recognize That Your Pages Aren't Necessarily Flawed: It's crucial to understand that pages impacted by core updates may not necessarily be of poor quality. These algorithmic updates are primarily aimed at enhancing the overall assessment of content within the system.
Prioritize Quality Content: Google consistently advises site owners to focus on delivering high-quality content in response to fluctuations in search rankings. Quality content remains a fundamental factor in maintaining and improving search visibility.
Conduct a Thorough Audit: If you've noticed a dip in your search rankings, consider conducting a comprehensive audit to identify which pages have been most affected and the types of searches that have been impacted. This information can help you tailor your optimization efforts effectively.
Be Patient: It's important to note that improving your website's content and structure may not result in an immediate change in rankings. SEO improvements often take time to be fully reflected in search results.
Stay Informed and Monitor: Keeping yourself updated on the latest news regarding Google algorithm updates is crucial. Continuously monitor the effects of these updates on your website's performance through website analytics tools. This proactive approach is essential for businesses that rely on maintaining a strong online presence.
In conclusion, the completion of Google's August 2023 Core Update brings with it opportunities for website owners to adapt and refine their strategies. By focusing on quality content, conducting audits, and staying informed about Google's algorithmic changes, website owners can navigate these updates effectively and maintain their online visibility.
Stay tuned!
Meelis Malk
Professional SEO Coach & Mentor
What are Google core algorithm updates?
Google core algorithm updates are significant changes made to the underlying algorithms that Google uses to rank web pages in its search results. These updates aim to improve the quality and relevance of search results by refining how Google assesses and ranks web content.
How often does Google release core algorithm updates?
Google releases core algorithm updates several times a year, but there is no set schedule. Updates can occur as frequently as every few months or less frequently, depending on the need for changes and improvements.
What is the purpose of these updates?
The primary purpose of Google core algorithm updates is to enhance the overall quality of search results. Google seeks to deliver more accurate, relevant, and valuable content to users by fine-tuning its ranking criteria.
How do core updates impact search rankings?
Core updates can have a significant impact on search rankings. Websites may see fluctuations in their rankings as a result of these updates. Some sites may experience improvements in their rankings, while others may see a decline.
Are all websites affected by core updates?
Yes, all websites can potentially be affected by core updates. Google's goal is to assess and rank web content more accurately, so changes can impact a wide range of websites across different niches and industries.
What should website owners do in response to core updates?
Website owners should focus on creating high-quality, valuable content for their users. Conducting regular SEO audits to ensure website health, monitoring keyword rankings, and staying informed about industry best practices can help mitigate the impact of core updates.
How long does it take for the effects of a core update to become apparent?
The effects of core updates may not be immediately apparent. It can take days, weeks, or even months for websites to see the full impact of an update. Patience is essential when assessing the effects of these changes.
How can website owners stay updated on Google's core algorithm changes?
Website owners can stay updated on Google's core algorithm changes by following official Google webmaster communication channels, reading industry blogs and news, and participating in SEO communities. Google also provides information through tools like Google Search Central.
Are there any tools or resources to help assess the impact of core updates on a website?
Yes, various SEO tools and resources can help assess the impact of core updates on a website. Tools like Google Search Console, Google Analytics, and third-party SEO software can provide data and insights into changes in rankings and traffic. Additionally, Google's official webmaster guidelines offer valuable advice for optimizing websites.
Remember that the impact of core algorithm updates can vary from one update to another, so it's essential for website owners to stay informed and adapt their strategies accordingly.
Want to improve your SEO skills?
Want to improve your SEO skills?
Essential SEO Insights from the 2024 State of SEO ReportDiscover the top trends shaping the SEO landscape based on this extensive survey of the industry's leading experts. Dive into the real-time changes, challenges, and opportunities that are redefining search engine...
PERSONAL SEO COACHING, SEO MENTORING & SEO TRAINING
We are open on working days from
10.00 to 15.00 (CET)
Call us and we will arrange a free consultation to find the SEO TRAINING that is right for you.
Tel: +48 535 451 490